Send to Kindle
Does anyone remember from childhood a story called The Fir Tree by Hans Christian Anderson? Basically there's a little fir who lives in the woods and longs to be a Christmas tree when he grows up. He's heard from the sparrows that the greatest honour for a tree is to be…ornamented with the most splendid things, with gilded apples, with gingerbread, with toys and many hundred lights…
So the fir eventually, inevitably, gets his wish. All dressed up in trinkets, he has a magnificent time, until, of course, Christmas is over and done with, at which…the gardener's boy chopped the tree into small pieces; there was a whole heap lying there. The wood flamed up splendidly under the large brewing copper, and it sighed so deeply!
Now for some reason my mother chose to tell my sister and I this story when we were just a bit too young and delicate to bear it. When the fir was dismembered and incinerated, we were inconsolable. For several years after, as soon as our Christmas tree arrived, we would start to worry about what was going to become of it in January. We'd try to think up ways to liberate the discarded fir. One year we hid it beneath a tarpaulin in my father's tool shed, another year we rammed it into a hole in the garden hedge. We refused to accept that the tree would inextricably trump our every effort, and die.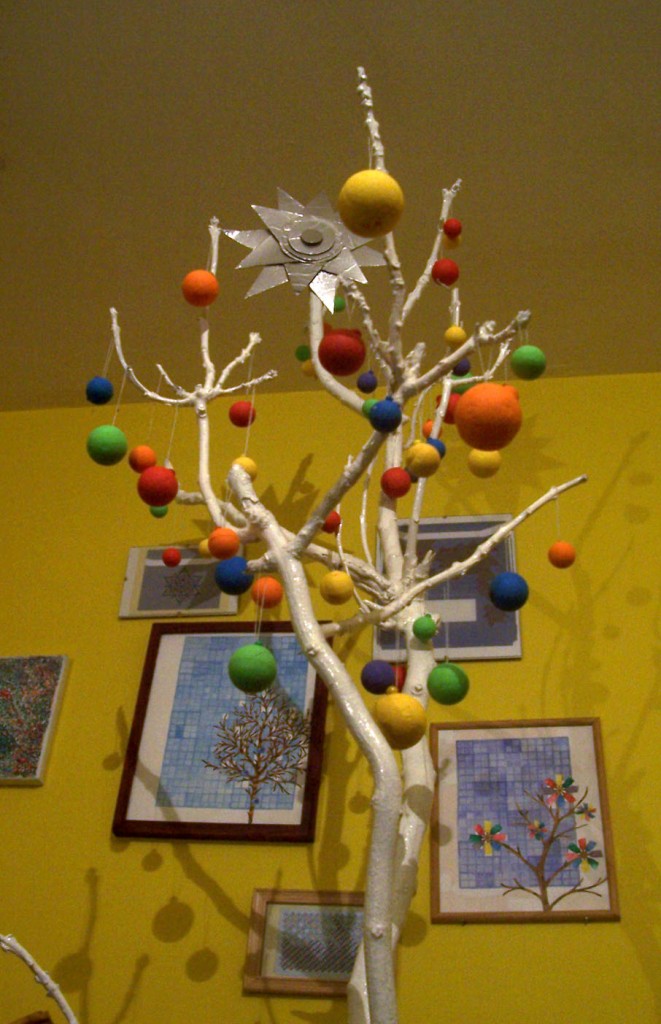 Now that I'm no longer myself a child nor have any children of my own, as hard as I try to deny it, Christmas is just like any other cold day in the belly of winter. This is the fourth Christmas I've lived with my boyfriend and our two unruly rescue dogs: one big, one small. In the early years, we used to make some kind of an effort to mark the occasion. Unable to afford even a PVC tree, during our first December we went to the woods and wrenched a great knobbled branch out of the undergrowth. At home again, I scrubbed it down and painted it brilliant white. My boyfriend fixed it into a wrought iron stand and I sprayed several packets worth of polystyrene balls all the colours of the rainbow, attached them to ribbons and dangled them all over the Christmas branch. Once finished, it looked pretty impressive. But it was a bit more Tate Modern than Hans Christian Anderson. Even with a tin­foil star glued to its highest point, there wasn't anything terribly festive about our 'tree'. It stunk of gloss paint without a trace of pine needle.
The following year, once the novelty of the Christmas branch had somewhat worn off, stringing up polyball after polyball proved agonisingly tedious. My boyfriend accidentally positioned the stand on a wonky floorboard, and so every time either of us stepped on the wrong spot, the tree would lurch and a couple of balls fly off. Now as far as Small Dog is concerned, as soon as anything hits the floor, it belongs to him. From Christmas Eve right through to the day following St. Stephens, Small Dog held back his shit, which was worryingly out of character. Small Dog is ordinarily a prolific shitter; more seems to come out than has gone in. Just when I was about to concede defeat and spend sixty quid on a trip to the vet, Small Dog extruded a great mangled crap of ripped ribbons and fragmented polystyrene, all the colours of the rainbow.
So the Christmas branch leaned pathetically against the mouldy living room wall for another spring, summer and autumn. When winter came around again, I noticed how it didn't look quite so brilliant white any more. It had been infected by the wall's mould; some of the smaller limbs had turned to mush.
Well, my boyfriend said, are we putting up the branch this year?
And then we made the depressing mistake of rationalising Christmas, because the thing is, when you examine it objectively, it all seems fairly ludicrous. Christmas cake tastes horrible; families don't get along very well together once all confined to a single premises on a single day, and the whole concept of a bearded Scandinavian who breaks into your house in the dead of night carrying an enormous sack is actually pretty creepy.
And if I decorate the fucking branch now, I said to my boyfriend, I'm only going to have to fucking un­decorate it all over again in a fortnight.
Suffice it to say, this year, we didn't bother putting the Christmas branch up. We didn't even have a conversation about it. When my boyfriend raised the subject earlier in December, we both just laughed.
But I am not so black­hearted that it doesn't sadden me just a little bit that I've grown so indifferent to Christmas. Last weekend, whilst visiting my parent's house, my mum gave me a little bag of decorations: several golden pinecones and a fat fabric robin. Back in my own house again, I stood sadly on the kitchen tiles and held the decorations in my palm in a reflective, remorseful sort of way for several moments before fucking them in the bin, all except for the robin. I couldn't bring myself to bin his chirpy little robin face; I placed him down gently on the kitchen tabletop.
I'll fuck him out in January instead.
Sara Baume is an award winning author whose novel A Line Made by Walking will be published by Tramp Press in 2017. Her short story "North Korea" appeared in Issue 4 of The Penny Dreadful.

Comments
comments