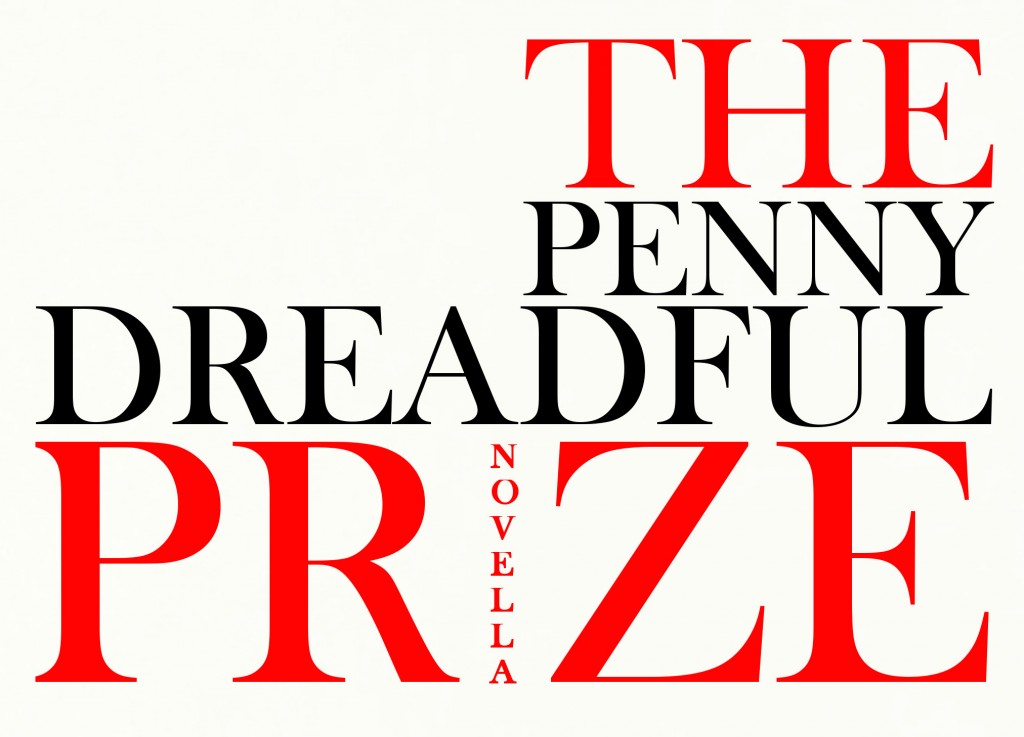 Look! Listen and take heed! We are delighted to announce the inaugural Penny Dreadful Novella Prize,  the world's newest novella competition. At last, an opportunity to have your "not quite a novel but too long to be a short story" lauded and admired by all. Even by that guy you used to go to school with, you know the one we mean. We invite you to submit a manuscript, but what, pray tell, is a novella?
WHAT ARE WE LOOKING FOR
It's difficult, nay, impossible to define what exactly constitutes a novella. We say, however, it is prose between 15,000 and 35,000 words. There is no topic off limits and we enforce no style or genre on your piece. It can be the thrilling narrative about a shoe who can talk or even something else that doesn't concern talking shoes. The possibilities are endless. All we ask is that it is your original work, is in the English language and it is currently unpublished.
PRIZE
The Prize is €2,000 for the winning author  and publication of their novella by The Dreadful Press. That's exciting.
SUBMISSION GUIDELINES
Submissions must be between 15,000 and 35,000 words. We are now open since on the 1st of June and will close on the 30th of September. The cost of entry is €10 per manuscript at a maximum of two manuscripts per entry. Entries are open to residents of Ireland and the UK only. It will be adjudicated by an esteemed panel of judges and the winner announced in January.
JUDGES

Colin Barrett is from Mayo. His first book of short stories, Young Skins, was originally published by Stinging Fly Press, and in 2014 won the Frank O'Connor International Short Story Prize, The Rooney Prize for Irish Literature, and the Guardian First Book Award. His stories have appeared in Stinging Fly Magazine, Five Dials, A Public Space and The New Yorker.
Sara Baume Her debut novel, Spill Simmer Falter Wither, was published in by Tramp Press in Spring 2015, will be published by William Heinemann in winter 2015, and is being translated into Dutch, Spanish and German. Her short fiction has been published in anthologies and journals such as The Stinging Fly magazine and the Dublin Review. She won the 2014 Davy Byrne's Short Story Award and the 2015 Hennessy New Irish Writing Award.
Paul McVeigh has written plays, comedy shows, short stories and a novel. His short fiction has been published in journals and anthologies and been commissioned by BBC Radio 4. His novel The Good Son was published in April 2015 to wide critical acclaim. Paul is Director of the London Short Story Festival and Associate Director at Word Factory, the UK's leading short story literary salon.
Click below for information on rules and conditions.
RULES AND CONDITIONS
• Entries open on the 1st of June and close at midnight on September 30th 2015.
• The winner of The Penny Dreadful Novella Prize will receive €2,000 and publication. We retain the right to publish the winning manuscript both in print and digital formats. The Dreadful Press will enter into a publishing contract with the winning author for their winning novella only.
• We reserved the right to edit the winning manuscript and prepare it for publication once the prize has been awarded.
• The minimum word count is 15,000 and the maximum word count is 35,000.
• Entries are open to agented and un-agented authors alike.
• Submissions should include the entire manuscript, a brief one page synopsis and a cover page including the author's bio, word count and contact details.
• Your novella should be submitted in .pdf, .doc or .docx format only and in something like a normal font.
• The entrance fee is €10 per novella. You may enter two manuscripts only.
• Shortlisted entrants will be announced in December 2015 and listed on our website. The winner of The Penny Dreadful Novella Prize will be announced in January 2016.
• Manuscripts must be your original work, in English and not previously published. Self published work is not permitted. Simultaneous submissions are not permitted.
• Submissions cannot be altered after entry.
• Entries are open to residents of Ireland and the United Kingdom only.
• Entrants must be 18 years of age or over.
• Entrants retain full copyright of their submissions, however by entering, we reserve the right to use appropriate extracts from the shortlisted manuscripts for promotional purposes.
• The winner agrees to an interview which may be published on our site and in any media for publicity purposes.
• Entrants employed by The Dreadful Press or The Penny Dreadful are not eligible.
• If the winning manuscript is not of publishable standard, we will not award the prize. All entrants will received a refund of their entry fee minus judges reading fees.
• Entries that do not comply with the competition rules may be disqualified.
• Entries that do not strictly follow the payment method may be disqualified.
• By entering the competition you agree to these terms and conditions.
HOW TO ENTER
We are now closed for submissions. A shortlist will be announced in December.